Way More Americans Support Banning Porn Than You Might Think
The traditionalist dream of banning or regulating pornography in the United States may not be as far-fetched as has been imagined.
SO WHAT
If Americans can be convinced to ban smut, what other policies might they entertain?
THE NUMBERS
Over the weekend, conservative New York Times columnist Ross Douthat tweeted survey data showing that 35-40% of American adults have long backed a complete ban on porn.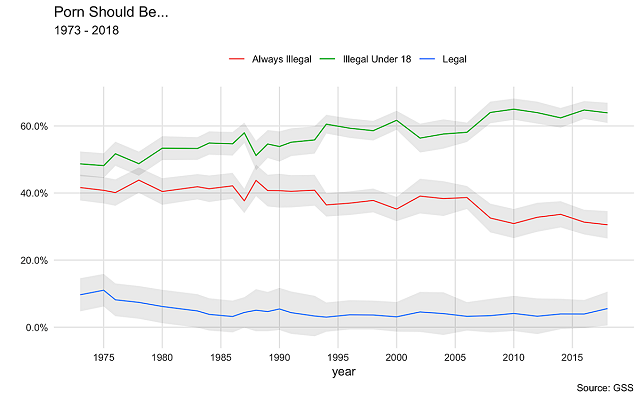 While support for porn prohibition has dipped slightly since 1972, when the General Social Survey began asking, a growing majority of Americans have endorsed outlawing X-rated materials for children.
Other leading polls have found most Americans think porn is immoral and socially destructive, as Charles Fain Lehman detailed for the Institute for Family Studies in 2019.
"Can the Trump administration get away with banning porn?" Almost certainly not," Lehman concluded.
"But there is a lot of evidence that Americans, especially women, think porn is immoral. An agenda that zeroes in on those Americans' concerns, and targets porn's worst excesses, may be more successful than many libertarians imagine."
THE GREAT DEBATE
Douthat surfaced Lehman's analysis as part of an ongoing slap-fight between conservative intellectuals over whether Americans would or should give up some of their liberties to the government in the name of the "common good."
Meanwhile, Adrian Vermeule, a Harvard Law School professor and leading "post-liberal" thinker made clear in a series of tweets that he isn't particularly concerned about how his agenda polls.
(Even assuming the 12% figure is correct, and it's not. It's probably off by at least 3x and perhaps much more).

— Adrian Vermeule (@Vermeullarmine) January 9, 2022
In addition to banning porn, Vermeule said post-liberals want sabbath laws, a more collectivist economy and "stewardship of nature."